We're so glad you're here! We hope your time with us is enjoyable, encouraging, and spiritually inspiring. Get ready to experience God here today.
Who Are We?
We are a 5-year-old church plant with the Christian and Missionary Alliance whose mission is to bring hope, healing, and growth to 2nd & 3rd generation Hmong.
We love children and youth here at RiverLife. We want them to be seen, heard, and valued. That's why the WHOLE CHURCH worships together for the first part of service.
Then, about half-way through, we'll dismiss them to join RiverKids and Thrive Youth Ministries downstairs for their own special time of learning about God.
Current Sermon Series
In this series, we look at the four people from the Bible and how their stories were transformed by encounters with Jesus.
Sermon Notes
Title: A Man Full of Pride (Week 3)
Passage: Philippians 3:1-11
Key Verse: "But whatever were gains to me I now consider loss for the sake of Christ." (Philippians 3:7)
Big Ideas:
Your story reveals what you put your confidence in.

The truth in your story refutes the lies in false teaching.
Prayer to put your confidence in Jesus Christ:
"Jesus, I believe that you are the Son of God who died for me so that I can have a relationship with God now and live with him forever. Thank you for forgiving all the things that I have done that were not what God wanted. I put my confidence in you, and I give my life to you. I pray in your name. Amen, so let it be."
Turn your gently used stuff into:
• Food for the homeless
• Help for refugee families
• Support for pregnant moms
In three weeks, we will have rummage sale to raise money for our Community Engagement ministry partners. Drop your stuff off at church Thurs. 7/25 - Sat. 7/27.
New Here?
Relax! Grab some coffee and a snack.

Check the kids in. They'll be safe, have fun, and learn about Jesus.

We've got a free gift for you. Look for the small white bags.

Stop by the Connection Center to learn more about the church.

Attend the Pastor Meet & Greet on July 14 to meet Pastors Greg & Kong.
Connect with Us
We'd love to hear from you. Use this form to ask us anything, receive prayer, or find out how to get more involved.
Next Steps
No matter where you are in your faith, everyone has a next step. What's yours?
Attend service again (if you're new).

Commit to attend service more than you miss (if this is your church home).

Join us for a fun event—like the Pool Party (TODAY!) or Summer Retreat (July 19-21).

Decide to get baptized. We'll be doing baptisms at the Summer Retreat.

Serve on a ministry team—like Connections, Community Engagement, or Children's Ministry.

Take the 90-Day Giving Challenge.

Hang out after service and get to know someone better.

Follow us on Facebook.

Download our app (for iOS or Android).
Giving at RiverLife
We give to God because He first gave to us. Giving to RiverLife changes lives, families, and communities. And it changes you.
If this is your first time here, don't feel pressured to give. We want you to receive today.
Photos from Last Week's Men's Football & BBQ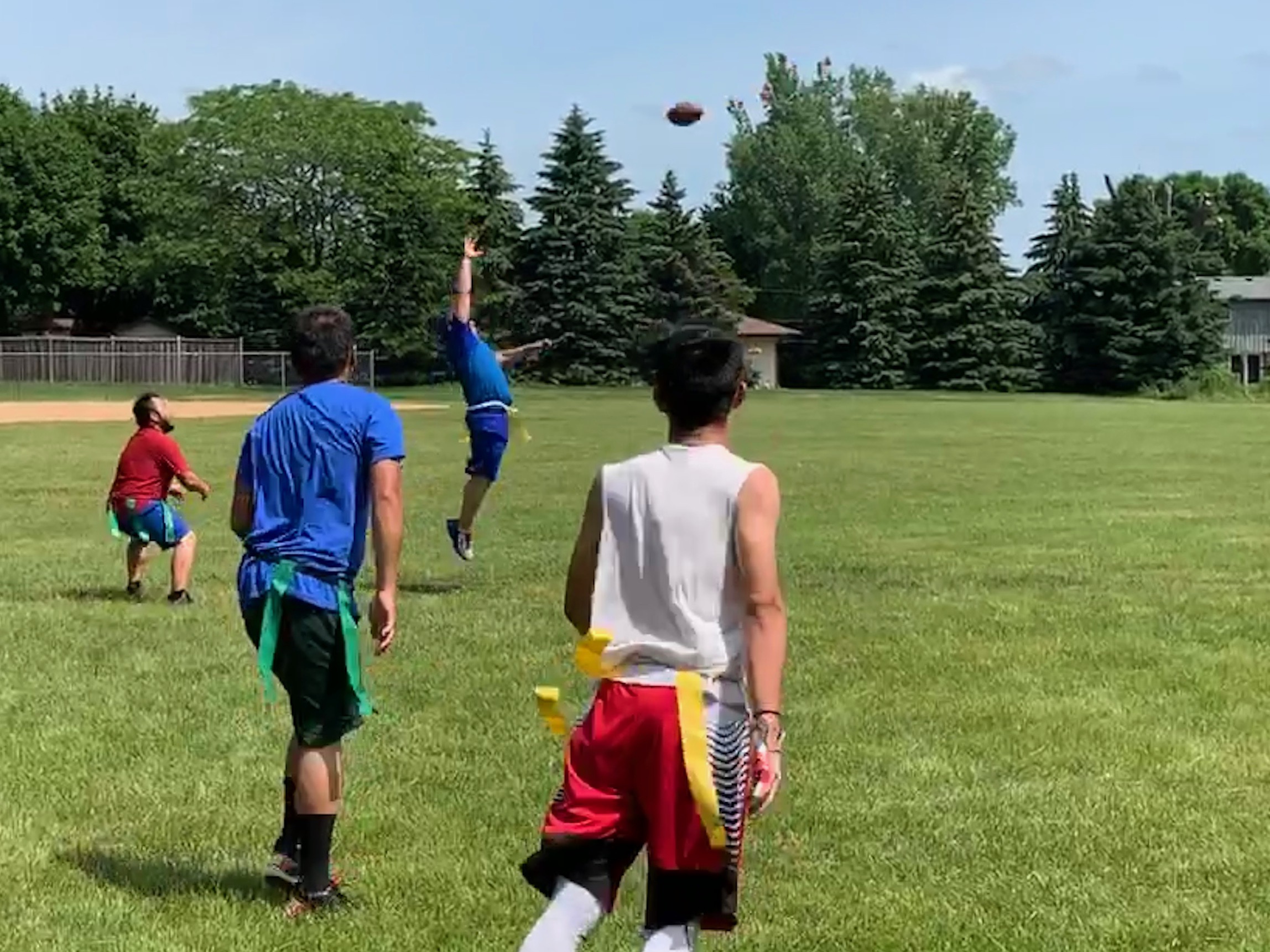 The Benediction
Pastor Greg closes each service with God's blessing for you from Numbers 6:22-26. As you go, receive these words…
May the Lord bless you and protect you. May the Lord smile on you and be gracious to you. May the Lord show you his favor and give you his peace.